During the 33rd OPEC Ministerial Meeting+ At the OPEC Secretariat yesterday in Vienna, Austria, the participating countries decided toadjust global production downwards by 2 million barrels per day (mb/d) to the required production levels for 2022, starting in November 2022 for OPEC+ participating countries, according to the table below.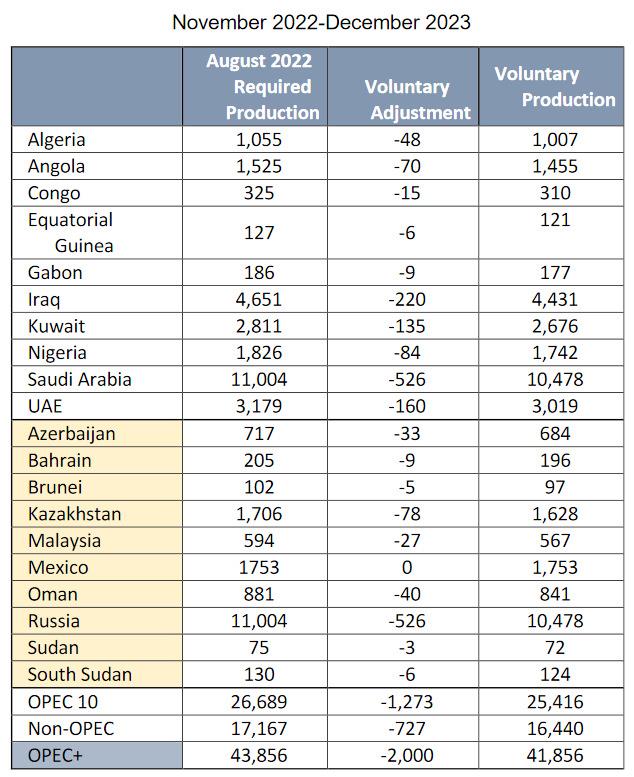 OPEC's de facto leader, Saudi Arabia, said the 2 million barrels per day (bpd) cut in production, or 2% of global supply, was necessary to respond to rising Western interest rates and a weaker global economy.
Le royaume a rejeté les critiques selon lesquelles il était de connivence avec la Russie, qui fait partie du groupe OPEP +, pour faire monter les prix et a déclaré que l'Occident était souvent motivé par "l'arrogance de la richesse" lorsqu'il critiquait le groupe.
The White House said that President Joe Biden would continue to assess whether new strategic oil stocks should be released to bring prices down.
"Le président est déçu par la décision à courte vue de  l'OPEP + de réduire les quotas de production alors que l'économie mondiale fait face à l'impact négatif continu de l'invasion de l'Ukraine par (le président russe Vladimir) Poutine",

said the White House.
Biden faces low approval ratings ahead of the mid-term elections due to soaring inflation and has called on Saudi Arabia, a long-time US ally, to help bring prices down. 
US officials have said that part of the reason Washington wants to drive down oil prices is to deprive Moscow of oil revenues. Biden visited Riyadh this year but failed to secure any firm commitments to cooperation on energy. Relations have been further strained by Saudi Arabia's failure to condemn Moscow's actions in Ukraine.
The reduction in oil supplies agreed in Vienna on Wednesday could spur a recovery in oil prices, which have fallen to around $90 from $120 three months ago on fears of a global economic recession, rising US interest rates and a stronger dollar.
Le ministre saoudien de l'Énergie, Abdulaziz bin Salman, a déclaré que  l'OPEP + avait dû être proactive alors que les banques centrales du monde entier s'attaquaient "tardivement" à la flambée de l'inflation avec des taux d'intérêt plus élevés.
LOWER ACTUAL CUTS
Wednesday's production cuts of 2 million bpd are based on existing benchmarks, meaning that the cuts would be shallower as OPEC+ fell about 3.6 million barrels per day short of its production target in August.
The underproduction occurred because of Western sanctions against countries such as Russia, Venezuela and Iran and production problems with producers such as Nigeria and Angola.
Prince Abdulaziz said the real cuts would be 1.0 to 1.1 million bpd. 
Analysts at Jefferies said they estimated the figure at 0.9 million bpd, while Goldman Sachs put it at 0.4-0.6 million bpd, saying the cuts would come mainly from Gulf OPEC producers such as Saudi Arabia, Iraq, the United Arab Emirates and Kuwait.
Le brut de référence Brent a dépassé les 93 dollars le baril mercredi.
The West has accused Russia of militarising energy, with soaring gas prices and a scramble to find alternatives creating a crisis in Europe that could trigger gas and electricity rationing this winter. 
Moscow, meanwhile, accuses the West of weaponising the dollar and financial systems such as the international payment mechanism SWIFT in retaliation for Russia sending troops into Ukraine in February. 
Russian Deputy Prime Minister Alexander Novak, who was placed on the special US sanctions list for designated nationals last week, also travelled to Vienna for meetings. 
Novak is not under EU sanctions. He and other OPEC+ members have agreed to extend the cooperation agreement with OPEC for another year until the end of 2023. 
The next OPEC + meeting will take place on 4 December. OPEC + will move from monthly to semi-annual meetings.